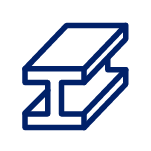 CONTACT THE INDUSTRY EXPERT
AsstrA Steel Logistics
WHAT WE CARRY
Steel in rolls, sheet pile, beam, metal cords;
Pipes of various diameters;
Rails of 12.5-25 meters;
Round and flat rolled products.
WHAT WE DO
Door-to-door cargo transportation;
Multimodal schemes with a set of services for steel deliveries from Europe to the CIS countries and vice versa (covering ship freight, port operations, storage, customs clearance, and delivery across the CIS and the EU);
Transportation of bulk cargo;
Transportation via coil trucks;
Forwarding services for railway rolling stock, payment of railway fares.
WHAT WE ARE WORKING ON
Expanding our network of seaports and railway terminals to provide comprehensive customer service.
WHAT WE DON'T DO
We do not carry any of the above-mentioned metals by plane.
Publications