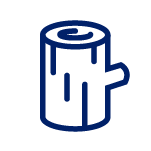 CONTACT THE INDUSTRY EXPERT
AsstrA Wood and Paper Logistics
WHAT WE CARRY
Plywood, balk, laminate, DSP, MDF, OSP;
Industrial equipment and spare parts;
All types of paper and cardboard;
Sanitary and hygienic products based on cellulose;
Materials and supplies for manufacturing (adhesives, films, resins, etc).
WHAT WE DO
Project logistics, transportation of oversized and heavy cargo;
Temperature-controlled transport for equipment;
Provision of services surveys when loading and unloading with report preparation;
Customs clearance, classification solutions;
Warehouse logistics.
WHAT WE ARE WORKING ON
Continuous development of competencies supporting the transportation of wood and paper products as well as industrial equipment used in the pulp, paper, and woodworking industries.
WHAT WE DON'T DO
Transportation of roundwood with logging trucks.
Publications